Payment Portal Case Lookup
Use the Payment Portal to look up a case in our system (including traffic tickets or other citations) and make credit card payments when there is a balance due.
First-time users should review the brief help topics below before accessing the system.
If you would like more information about Traffic Court including topics such as Traffic School, contesting a ticket or other citation, changing appearance dates, etc., visit our Traffic Court page.
Notice: Correctable Violations ("Fix-It Tickets")

If you have a correctable violation, do not pay for it online before contacting the court. Once you provide proof of correction to the court, your fine may be reduced.
Help Topics
Please note: It can take law enforcement agencies up to 30 days to send your citation to the court. Citations must be in our computer system before you can view or pay them online.
Upon entering the Payment Portal, you will be on the Main Search page. You will only need to know your case or citation number.
Image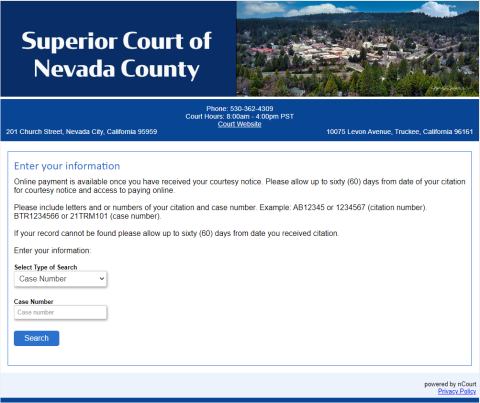 Once you have found your case or citation (see previous Help Topic), you will be asked to select an option. 
Image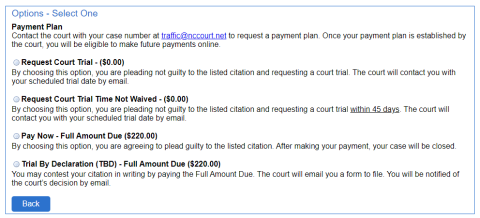 If your selected option involves payment, you will be directed to a payment screen to enter your card information. 
Image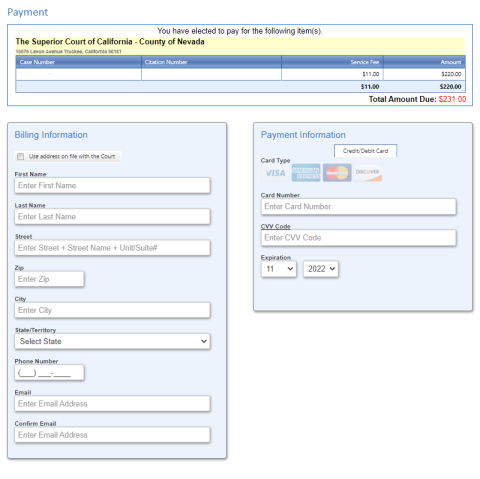 ** additional service fee will be charged