Selection, Appearance and Service
A Jury is a selected group of citizens which hears the testimonies in a legal dispute and determines what they believe is the truth.
The United States law provides for three types of Juries: Petit, Grand and Coroner's.
Juror Reporting Status (24 hr)
If you have received a jury summons, complete your Jury Questionnaire in advance. To request postponement, disqualification, or excusal, please use the Self-Service Jury System.
Phone: (530) 265-7878
Be careful of Jury Scams. The jury office will never ask for any kind of payment for missing jury duty.
Juror Selection Process and Service 
Prospective jurors are initially selected or "summoned" from the Voter Registration files or the Department of Motor Vehicles files each year (July 1 - June 30) to a specific jury trial date and time. You are requested to report on the date and time on your summons to the address indicated on your summons. Please take into account the time it takes to park your car, walk to the Courthouse and be processed through security.
Jury trials are typically in session from 9:00 a.m. to approximately 4:00-5:00 p.m. Monday through Friday. The lunch break for jurors is usually from 12 noon to 1:30 p.m., and brief recesses are held throughout the day.
The Superior Court of Nevada County observes a "one-day/one-trial" policy. Once a prospective juror has either served as a trial juror in one trial, or made one appearance and was not selected as a juror, he/she should not be called for jury service again for at least 12 months. If, after appearing for jury service, the judge or jury commissioner excuses a prospective juror for hardship reasons, he/she is subject to be called again at any time. If a prospective juror is selected to serve in a trial, he/she is required to serve until the conclusion of the trial. Average jury trials last two to five days. In some instances jury trials may last longer. The trial judge will advise you of the estimated trial duration.
Trial Cancellations
On occasion, the litigants in a jury trial will settle out of court prior to the date of the jury trial, so it is important for you to follow the information on your summons on how to check your up-to-date Juror Status. If your jury trial is cancelled, you do not need to appear as instructed. Your name will be added back to the prospective juror pool after 12 months.
Juror Service Postponement (Reschedule)
We understand that sometimes prospective jurors are unable to fulfill their jury duty on the date and time for which they have been summoned. Each juror is allowed to change the date of their jury duty once in a given year. This is not an excuse from service; simply a rescheduling of your service to a later date that works better for you. You can reschedule your service one of two ways:
1) through our on-line Juror Status system, or 2) call the Jury Commissioner's office. If we don't answer, please leave us your your name, reporting date, juror number (its on the summons) and a phone number where we can reach you.
Excuse From Service
An excuse from jury service based upon undue hardship, financial burden, work hardship, or religious reasons, can only be granted by the judge and must be placed on the Court's record on the date of your appearance.
You may request to be disqualified or excused from jury service for any one of the following reasons:
(1) You are not a citizen of the United States.
(2) You are under the age of 18.
(3) You are not domiciled in the State of California, as determined pursuant to Article 2 (commencing with Section 2020) of Chapter 1 of Division 2 of the Elections Code.
(4) You are not a resident of the Nevada County.
(5) You have been convicted of malfeasance in office and your civil rights have not been restored.
(6) You do not have sufficient knowledge of the English language to act as a trial juror (this does not include loss of sight or hearing in any degree or other disability which impedes the person's ability to communicate or which impairs or interferes with the person's mobility).
(7) You are serving as grand or trial jurors in any court of this state.
(8) You are the subject of conservatorship.
(9) You are currently incarcerated in any prison or jail.
(10) You have been convicted of a felony and are currently on parole, postrelease community supervision, felony probation, or mandated supervision for the conviction of a felony.
(11) You are currently required to register as a sex offender pursuant to Section 290 of the Penal Code based on a felony conviction.
(**) Active duty peace officers may also be excused from jury service.
If you believe that any of these conditions apply to you, your request must be submitted in writing by checking the appropriate box on the summons and signing in the under penalty of perjury section. The summons must be returned within five business days. If you are unsure about whether any of the above apply, you may appear on the date of the summons and raise the issue with the judge or contact the jury commissioner's office for clarification.
Failure To Appear for Jury Duty
If you have received a summons for jury duty and did not appear as instructed, you will be recorded as a Failure to Appear, regardless of reason. Pursuant to California Code, any juror who fails to respond to a jury summons as directed may be found in contempt of court, punishable by fine, incarceration, or both. You will receive a new summons directing you to appear for Jury Service. Your Failure to Appear record will be vacated upon your appearance on the newly scheduled date.
Truckee
There are no designated spaces for jurors at the Truckee Courthouse. Parking is on a first-come first-available basis.
Nevada City
To avoid receiving a parking citation, you MUST place the detachable Juror Parking Permit (affixed to your summons) on your dashboard where it is clearly visible. This permit allows you to park in designated areas in/around the Nevada City area. This permit does not exempt you from parking in red, yellow or green zones.
AREAS COVERED BY PERMIT: (see highlighted areas on map below) Main Jury Lot (Washington at Main) - this fills early. The downtown lot between Commercial and York Streets. The metered spaces along Main or Pine Streets above Commercial St.
AREAS NOT COVERED BY PERMIT: All metered spaces on Commercial St, Broad St and Pine Street below Commercial St.
OTHER PLACES TO PARK: Street parking can usually be found adjacent to the freeway on Coyote Street.
Image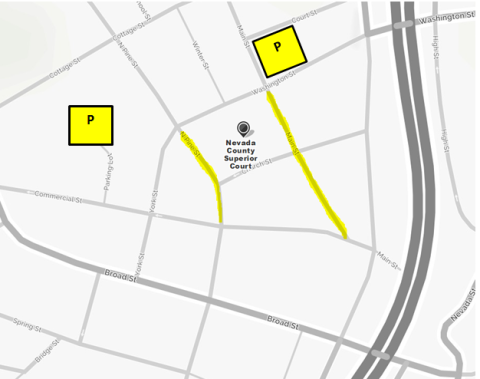 Unfortunately childcare is not available.
Jurors are advised to dress in layers as the temperature of the jury assembly areas and courtrooms can be unpredictable. You may also want to refer to - About your Courthouse Visit.
All jurors will be required to pass through a walk-through metal detector upon entering the building. Hand-carried items (purses, backpacks, brief cases) will be x-rayed for weapons. Besides weapons, other items not permitted into court facilities include pocket knives, scissors, corkscrews, glass bottles, mace, pepper spray, knitting needles.
Bring your summons with you to the first floor Jury Commissioner office (Suite 6) located just past the main entry/lobby.  After taking your attendance, you will be directed to the appropriate courtroom.
The court has two designated Juror Lounges, one on the first floor in Suite 6 and the second on the second floor in Suite 10.  These lounges are designed to provide jurors with a relaxing and comfortable place to take break. 
** NOTE: Due to COVID restrictions and the court's policy regarding face coverings, eating is not allowed in the break rooms until further notice.
Students may request to be postponed to the next school break, but status, as a student is not a valid reason to be excused.
Starting with the second day of service, jurors will be paid at the rate of $15.00 per day. Jurors will be paid for transportation costs at the rate of 34 cents per mile, traveling to court, one-way only.