The Case Calendars reside on our eAccess Web Portal—a single point of entry to look up information about court cases.
The court will be releasing a new public access portal in the coming weeks with up to date information. In the meantime, the link to access the system below will be disabled. We appreciate your patience during this transition.
​Upon entering the eAccess system, you will be at the Main Search page. Click the "Calendar" icon as shown below.
Image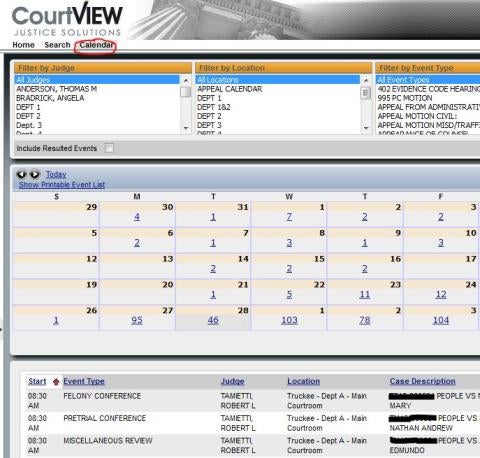 The initial view will be of a monthly calendar with little blue numbers which represent the number of cases on calendar for that day. Click on any one of these numbers and you will retrieve a summary list of all the cases for that day in chronological order in the space below the calendar. This list may roll over to several pages depending on the number of events.
To open a case from the calendar, click on the case number hyperlink and it will appear in the opposite panel.